MarketWatch CrudeOil MCX Update:
Looking at the Crude Oil Heikin-Ashi Monthly Chart with candle formation at 60 minutes interval, we can clearly decipher an uptrend as we can only spot higher highs. Crude Oil has been definitely performing Bullish since almost Christmas and continued it even after New year, which explains why we might expect some bearish moves this week.

MCX Crude Oil Feb futures technical chart has taken the formation of "Right-angled Rising broadening wedge" pattern in a daily time frame. Previously few sessions ended up in Bullish trend along with some corrections inside the channel. As per the technical aspects based on the current price action, the market is expected to continue on bullish trend. The continuation of the trend will be confirmed once the prices break above a key resistance zone holding at 3840. The positive rally could be testing all the way up to 3950-4000 levels in the upcoming sessions. An alternative scenario indicates that if the key resistance holds strong then the market might have a chance to retest the same and revise the trend to Bearish once again. Such possible reversal could possibly test up to 3700-3600 levels. Key support holds at 3600.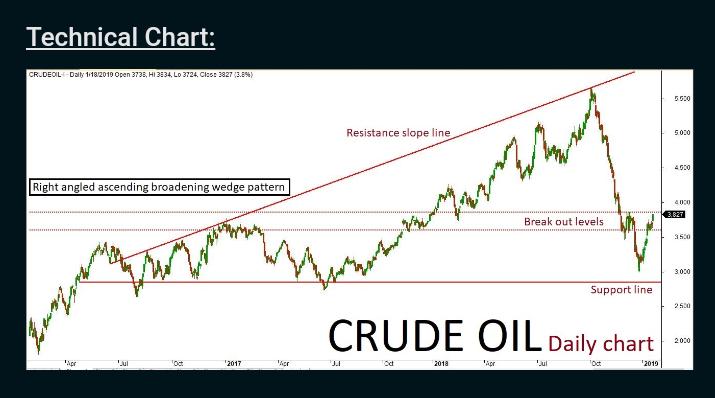 Now, If we look at the past week's performance of crude oil, we can see the bulls have rallied from 3600 levels to 3800 levels over the period of one week, claiming a strong Bullish trend that can stay for a few more rallies before ending. Accurate support, resistance, and pivot are available on MarketWatch, thus trading along daily ranges defined by support and resistant levels are convenient and easy unless you spot a trend.